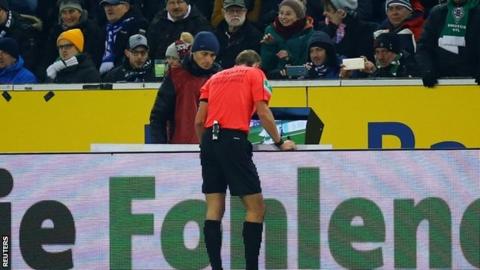 Video assistant referees are already used in Germany, Italy and the United States
English football takes a step into the unknown on Monday when a video assistant referee (VAR) is used for the first time in a competitive club match as Brighton host Crystal Palace in the FA Cup third round.
In essence, this is English football plugging itself into the digital age and avoiding the scenario where an armchair fan gets a better view of an incident than the game's referee – in this case Andre Marriner.
Marriner will have an assistant (Neil Swarbrick) watching the game on television in the Premier League's west London studio, and they will be able to use between 12 and 15 camera angles – plus four cameras in each goal – to try to ensure the right decision is made.
In theory, it should cut out mistakes such as the one referee Mike Dean admitted he made in awarding West Brom the late penalty from which they equalised in the 1-1 draw with Arsenal.
But, as anyone who watches cricket or rugby league will tell you, just because you can replay an incident on a screen, it does not make the decision beyond debate.
How does it work?
Furthermore, it is only to be used where there has been a clear and obvious error made by the referee or his two on-field assistants.
So, for example, if an offside goal is given, the VAR will contact the referee via an audio link and tell him to reverse that decision as soon as possible.
"What the referee doesn't have the option of doing is saying is 'I don't know if that was a penalty or not, I'll look at the replay'," says International Football Association Board technical director David Elleray.
"We are requiring the referees to carry on refereeing as if there is no video assistant referee. If they make a clear and obvious error, they get told about it and I think most referees will welcome that."
Sounds straightforward, doesn't it? But how many times have you seen the replay of a foul, yet still not be able to tell whether there was contact from the offending player?
If an error by the referee cannot clearly be proved, the original decision will stand.
"So much about football is subjective," former Premier League referee Elleray told BBC Radio 5 live. "We can't change that. We are just looking to deal with clear unfairness."
A Bundesliga referee makes the TV signal to ensure players and fans know VAR is being used
How do we know it's being used?
If VAR is used on Monday, fans will see the referee 'draw' a rectangle with his arms to replicate a TV screen.
That will only happen if the review process has been triggered, and it is important to note it can be either the referee or the VAR who decides whether an incident needs to be analysed.
It will then take one of two forms, with the first likely to be less controversial.
If a player has scored a goal from an offside position, for example, the VAR will inform the referee there is a factual error on a clear situation that does not require the referee to review the video. The referee will then make the 'TV screen' signal and change the original decision.
In situations that are less clear, the VAR will advise the referee to look at the video for what is called an 'on-field review'. This is where the referee will move to the side of the pitch to review the footage on a monitor.
Following their review, the referee will make a 'TV screen' signal and communicate the final decision.
Fans in the stadium won't be able to view replay pictures, but supporters watching at home will see the same camera angles as the referees, so they should at least be able to get an idea of which way the decision is going.
Only 7% of referee's decisions have been overturned when VAR has been used in Italy
How often is it used?
It only took 40 minutes of Serie A's opening game for VAR technology to be used for the first time when it was introduced at the start of this season in Italy.
But since then it has settled down and is now generally used about once in three or four matches, according to former referee Elleray.
ESPN reported there were 309 incidents reviewed using VAR in Serie A up to 30 October. Of those, 288 backed the referee's initial call and 21 decisions were overturned, which is equivalent to 7%.
The technology has also been used in the Bundesliga in Germany and the MLS in the United States and was also available for England's two goalless friendlies with Germany and Brazil last November.
But with few major incidents in those games, its use wasn't required – although checks can be made between the referee and the VAR throughout a match.
"We are checking every goal with VAR, but that doesn't mean to say the game is held up at all," said Elleray, a former Fifa referee. "What we know about football is that essentially it is almost a non-stop game, so we don't want to disrupt the flow and emotion of the game. We want to deal with the big mistakes."
VAR is also set to be used in Wednesday's Carabao Cup semi-final first leg between Chelsea and Arsenal, the second leg two weeks' later and the final on 25 February.
Has there been opposition to VAR?
Juventus manager Massimiliano Allegri has expressed concern over delay caused by VAR referrals, complaining the game was "turning into baseball".
There was also an embarrassing incident in MLS in September when the decision to send off New England Revolution midfielder Xavier Kouassi using VAR was overturned on appeal.
During the game, players risk a booking if they attempt to influence any official into using VAR and managers or other non-playing club staff risk being sent to the stand if they do the same, or encroach on the area where the referee is reviewing footage.
Given the sometimes fractious history between Crystal Palace and Brighton fans, the FA will be hoping for a quiet night where any potential refereeing errors do not fan the flames.
Cr:bbc